An ACRT Services Website
Upholding Our Commitment to

Environmental Stewardship
For more than 70 years, National Grid has been championing solutions, programs, and research that support biodiversity throughout our territory. We invite you to learn more about our efforts, their results, and their benefits for the generations to come.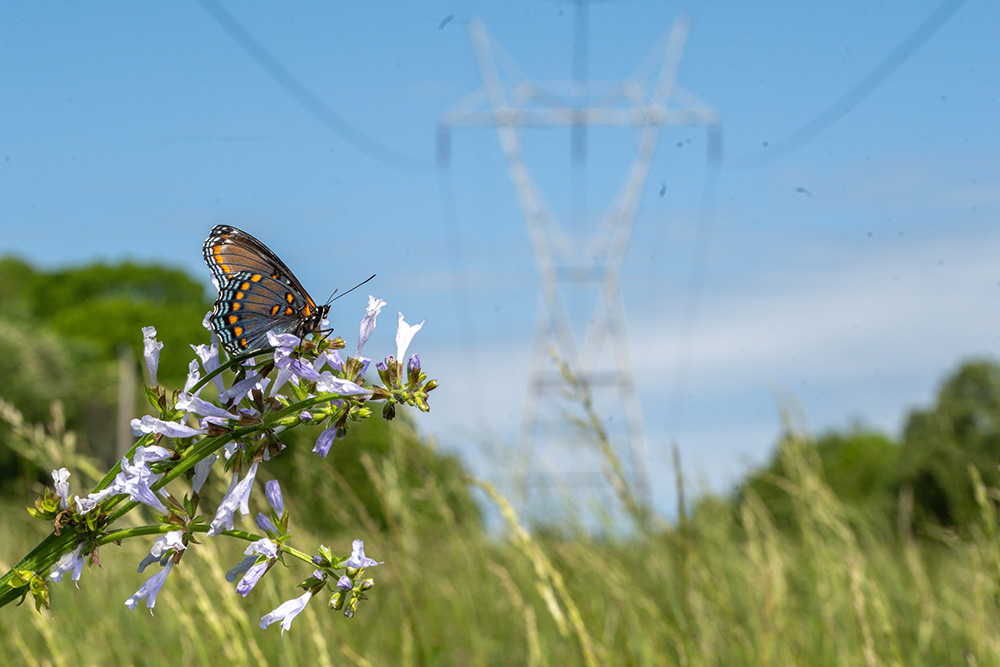 Land managers are faced with increasingly important issues in our ecosystems, including climate change, variable weather systems, invasive plant species, and biodiversity. As land stewards, we must do our utmost to address these challenges and implement solutions that encourage vibrant ecosystems.
At National Grid, our transmission corridors are large, interconnected green spaces teeming with native plant communities, pollinators, and wildlife. Since the 1950s, we have been utilizing integrated vegetation management (IVM) practices to enhance ROW plant and wildlife biodiversity. However, this has never been more important than today with pollinators in decline and invasive species continuing to threaten native vegetation.
With responsibility for more than 1,600 miles of utility transmission corridors, we are always working judiciously to ensure each site is managed using the right strategies and to implement the latest advancements in science into our programs. Our goals include:
Reducing the use of herbicide on our ROWs
Reducing mowing frequency to support plant growth
Using the latest technology for herbicide planning
Creating more sustainable ground cover
Increasing bloom variety for nectar and pollen availability
Providing food, shelter, and protection for insects and wildlife
Reducing work needed on ROWs to lessen our carbon footprint
BIOaudit: A Scientific Approach to Better Understanding Our Land
As a component of our overall environmental stewardship program, National Grid has launched a collaborative BIOaudit™ study with scientists and industry experts from ACRT Services, a national utility vegetation management company, to help us assess the quality of our ROWs as we move forward. The health of our ROWs will rely on our commitment to utilizing the most current technologies and information available.
Our sites play an important role in enhancing plant biodiversity and ensuring that pollinators and wildlife have a place to call home. The science behind our programs will continue to evolve, and we are already benefiting from the data as it enables us to proactively plan and take measures obtained from on-site assessments. Below are helpful resources to help you understand what the assessment entails and the results.
Resources to Help You Better Understand our Vibrant Land
The rights-of-way (ROWs) across National Grid territory are home to a number of species of plants, all of which have different characteristics, growth requirements, and other properties. Here, you can download overviews of these plants (or the entire collection) to help you identify them and help spread the word about the beautiful flora that makes up our thriving landscape.
Having Dr. Anand and his team studying the flora and fauna on our transmission corridors is something we've wanted to do for quite some time. Personally, I'm very excited to have this work performed on our electric transmission system. In doing this, I think it puts National Grid at the forefront, with few other utilities in the country, of understanding how we can not only transmit electric power to our customers but also do so in a manner that is actually beneficial to the plant and animal species that depend on the shrub habitat created by responsible vegetation management. My educational background in forest biology is a result of my passion for the outdoors and our natural environment. I also have a great appreciation for how we can both positively and negatively affect our natural world. With this study, I take great pride in being able to apply my education and passion to an aspect of infrastructure not known for having a positive influence on our shared environment and show that it can be done. I look forward not only to the results of the levels of biodiversity across our system but also to learning how we can do even better moving forward.
Jason Magoon, Senior Vegetation Operations Supervisor
As a department, we have always felt that the vegetation management work we've been doing on the ROWs helped to increase the ROW biodiversity. When you walk down the ROWs, you can see the abundance of diverse plants, wildlife, and endangered species that our IVM techniques have helped foster. Now, with Dr. Anand and his team we can quantify the work we have done over the last few decades. This sets a foundation for the future management of our ROWs.
Mariclaire Rigby, Lead Vegetation Strategy Specialist
The goal of our department is to provide safe and reliable power supply to our customers and minimize vegetation-caused interruptions. We strive to utilize best management practices and be at the forefront of industry standards while conducting our vegetation management operations. I look to the biodiversity study to validate the work practices that National Grid and its vegetation management contractors have been using. Our department wants to stand out in the region for providing safe, reliable power at the same time as fostering unique habitats, preserving sensitive areas, and working with communities and stakeholders. We also are excited to learn how this study can help us continue to lead with new and innovative work practices to increase biodiversity on our ROWs and promote sustainable plant communities all while increasing power reliability.
Eric George, Senior Vegetation Operations Supervisor
Look for our Biodiversity signs
Look for our signs at locations that are part of the biodiversity study. These sites are important and are special grow-out areas that allow for desirable plant communities to flourish.
Note Pollinator Plant Diversity
Note that not all pollinator plants bloom — in addition to colorful blooms, our pollinators need refuge and overwintering sites that may be found in grasses, trees, stalks, and snags.
Pass on the Message
Above all, pass on the message for the conservation of our native plants and insects! Wildlife — and all of us — benefit from working together. If you have any questions, please don't hesitate to reach out.

National Grid and ACRT Services share a joint commitment to promoting and furthering environmental stewardship.